Server Mart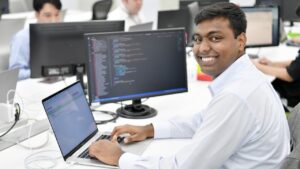 Servermart is a newly established company with an aim to build up a Tier-2 level Data Center for delivering Infrastructural services such as server collocation, Cloud computing and various hosting services. In parallel, servermart is connected to carrier grade ISPs- with multiple IIGs, Interconnectivity Operators- BDIX.
Initiators are involved in technology, telecom and infrastructure business for more than 20 years, with elaborate local & international experience & exposure in System design, NW designing, planning & implementation (Tech services), System Integration, Project Management, Infrastructure building (fiber, MW, BTS, MSC, NMC etc.) Telecom Value added services (VAS) Distribution & marketing, Operations & maintenance of infrastructure and Customer support & O & M of services.
Our Strength in Managed Hosting Service Portfolio:
One of the most advanced technology company in Bangladesh
We have a very strong team with true international exposure and experience in telecom, data, server, hosting & technology running successful telecom operations.
We are a Local company with committed full local team.
We are committed to create IT enabling Ecosystem in BD
Detail in depth understanding of local and international transmission and service market
Innovative network design expertise and deep understanding of client requirements
Total visibility and manageability of end to end network with capability to monitor each customer and service node & all transmission nodes under one NMS
Full redundant upstream capacity.
Fully proven & tested customer life cycle support mechanism already in place.
Infrastructure Facilities
Advanced Firewall Services
A single security breach can cripple your business. ServerMart brings you advanced firewall services that protect your valuable IT assets. A single security breach can cripple your business. To protect your interests, we at ServerMart bring you advanced firewall services. As part of this firewall service, we set up operate and manage firewalls for our customers.
Fire Protection
Protection from fire is a critical concern for your business and at ServerMart, we have invested in state-of-the-art fire detection and suppression systems comprising of Air-Sense High Sensitivity Smoke Detectors (HSSD), HFC227ea Inert Gas suppression systems and cross-zoned analog addressable detector systems. These systems ensure early detection and auto-suppression of fire, preventing any damage to equipment.
Internet Bandwidth & Peering
ServerMart has redundant Fast Ethernet WAN links interconnecting with ISPs. We have multi-gigabit last miles to the Internet, and this includes multiple redundant last miles from multiple providers. All major providers have their POP's present within the datacenters. Internet burstability can easily scale to Gigabit due to provisioning of sufficient bandwidth.
Network Facilities
ServerMart has Comprehensive peering arrangements with different players in the industry to enhance availability and dependability. ServerMart customers enjoy the benefits of a global backbone, high-performance network architecture and industry-leading peering arrangements which together offer maximum site availability. The scalable ServerMart network can handle the heaviest traffic loads.
Physical Security- Our datacenters are staffed with trained security guards 24*7*365, providing on-site incidence management and protection to your mission-critical internet operations. Visitors are screened upon entry to verify their identity and escorted to their appropriate locations. All access history is recorded for audit purposes.
Access Control- In addition to the presence of the security guards, the entries and exits of the facility are fitted with access control devices. The main entrance is protected by a biometric access device, which maps & verifies the bone structure of a person's hand. The facility has a Mantrap designed to ensure that no unwarranted entry / exit can be made to / from the facility. All areas are protected with Proximity card readers, ensuring that only authorized personnel are allowed in.
Video Camera surveillance-  Our facilities are monitored and recorded using video cameras – the images from which are continually scanned by our Security Guards. We also maintain a 30 day HDD based record of the videos in the event of unprecedented mishaps.
Power Management
The ServerMart Redundant Power Management System provides the data center with clean and conditioned power.
Consult with DCNL
Hosting is a very specific business. By hiring us you can keep focusing on your core business, while we do ours within your organization. We mostly offer consultancy combined with one of our other enterprise services, but it is also possible to hire us without a guarantee that we will be hosting the solution.
With our consultancy offering we can offer a full service solution for your business. From setting up the requirements, picking the right solution, to the implementation.
If you are interested in one of our solutions, please let us know and we will schedule a free meeting to talk about the options.
Write to us contact@servermart.net with your project requirement.